The ecological revolution of the last mile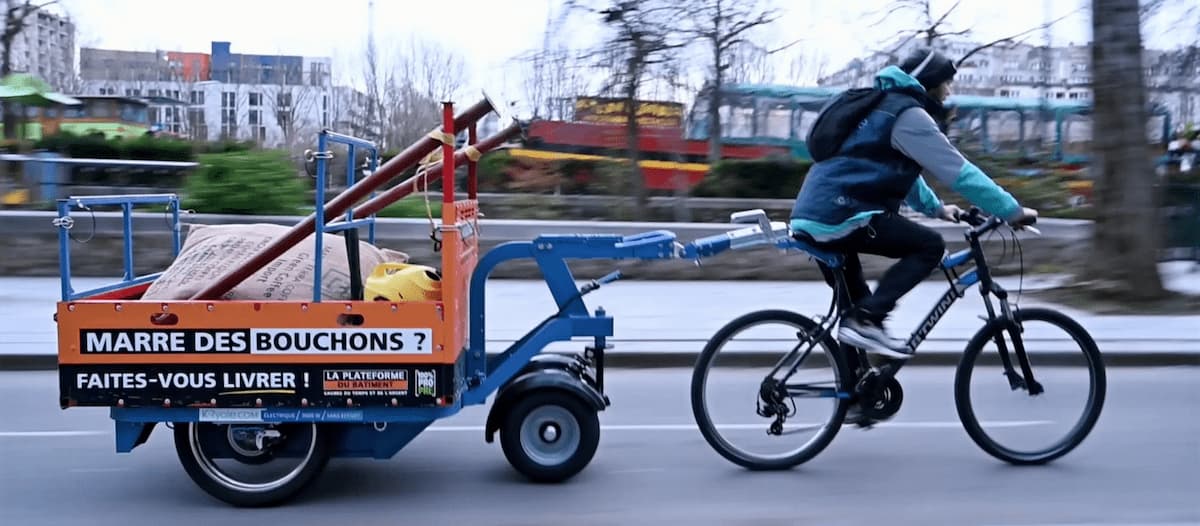 An alarming finding
In France, a third of greenhouse gas emissions are produced by the transport sector (by this, we mean the whole sector of goods and people combined).
88% of tonne-kilometres* are transported by lorry.
Alternative modes of transport are still under-utilised.
In fact, rail transport represents less than 10% and river transport 2.1% of tonne-kilometres.
However, these modes of transport are more optimised, more respectful of the environment and less cumbersome in terms of traffic.
What are the last-mile operators doing to reduce their environmental impact when online commerce is more than ever at the heart of our consumption patterns?
Alternative energies and ecological vehicles
When choosing a future transport partner, brands are increasingly aware of the carrier's ability to offer vehicles with low CO2 emissions.
It has to be said that manufacturers have adapted and there are several types of energy and vehicles that meet this need to limit the carbon footprint.
"We have a 100% environmental E-cart fleet (electric-assisted pedestrian trolleys), E-bike (tricycles), E-scooters (electric scooters), E-vans (electric vans) and E-trucks in 11 French metropolises."
- Benjamin Bourdeau, Swoopin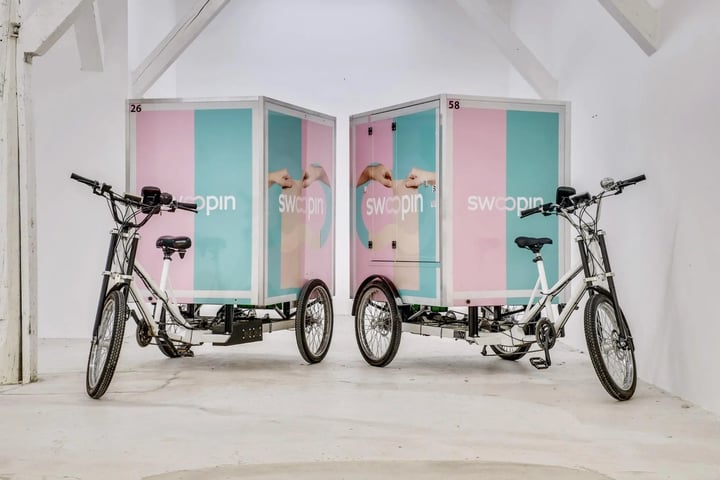 Swoopin fleet vehicles
Electric
Car manufacturers are offering an increasingly wide range of electric commercial vehicles.
This was essential to respond to the future regulatory requirements of LEZs (low-emission zones).
This has then given way to a larger market share for electric engines than in recent years. In June 2020, the market share of the electric light commercial vehicle was 3.1% compared to 1.3% in 2019.
The range of these vehicles is compatible with the average mileage of urban deliveries, especially if last-mile delivery operators have logistics areas close to the delivery zones.
Today, manufacturers offer a variety of types of electric energy vehicles
"We manufacture 100% intuitive, robust electric trailers intended for professionals to meet the challenges of urban congestion.
Our job is to make the transport of heavy and bulky loads possible by bicycle, to get around in an agile, economical and environmental way in town. Thanks to our patented technology, you can tow up to 250kg without additional effort."
- Marie Gribaudo, K-ryole
Gas (NGV) and Biogas
To date, around 26 million NGV vehicles operate around the world, though in France, only 18,000 vehicles use this fuel, mainly for local authorities.
Nonetheless, NGVs are increasingly popular in road freight transport.
In fact, NGV fulfils the necessary conditions to access low-emission zones, gradually being set up in numerous French urban areas. This is therefore a relevant response to last-mile delivery in urban areas.
The advantage of NGVs over electric vehicles is range.
They are intended more for less dense areas and greater distances.
We have around ten 20m3 NGVs (Natural Gas Vehicles) already in service."
- Delphine Janicot, Urby
Cycle logistics
With two-wheel cargo carrier bikes, three-wheelers, k-ryole, bicycle taxis, this sector is booming and offers a real alternative to commercial vehicles generally used for last-mile deliveries.
The main advantages are ease of fulfilling the delivery service in urban areas as well as respecting your commitment to the customer.
Indeed, thanks to the bicycle, delivery people can deal with traffic jams and other traffic hazards. Free, easy parking makes them even more efficient in fulfilling and keeping their promise to the end customer.
These choices and transformations obviously represent a significant investment for transport companies.
They hope to quickly get a return on these investments by attracting brands looking for more virtuous transport partners.
"We're investing €20M in a low-emission fleet. This amount will finance the acquisition of more than 240 vehicles, 45 of which will be put into service throughout 2021: 3.5 tonnes, 7.5 tonnes and 12 tonnes. 80% will run on NGV and BioNGV, and 20% on electricity."
- Delphine Janicot, Urby
What are the different impacts?
There are different types of impact: economic, social and environmental.
Economic impact
If we focus only on cycle logistics, the cost of a bicycle is significantly less than that of a commercial vehicle, as are maintenance and repairs.
Enough to make you want to go green!
However, this needs to be qualified with electrically assisted vehicles which are more expensive.
Social impact
Among the various negative external factors, there is obviously the noise pollution linked to vehicles in urban areas.
The various alternative energy vehicles seen above offer an opportunity to improve living conditions in urban areas.
For delivery people, this facilitates access to employment because certain types of vehicles don't need a licence (bicycle, cargo bike, k-ryole)
Environmental impact
Obviously, these alternative vehicles have a significant impact on the environment, including reduction of greenhouse gas (GHG) emissions.
"CO2 emissions reduced by 770 kg/year compared to an LCV. 5 times more rational than an LCV.K-Ryole: 150 kg for 250 kg of payload vs LCV: 1.5 T for 600 kg of payload"
- Marie Gribaudo, K-ryole
Pooling last-mile delivery networks
Electric vehicles offer an opportunity to improve living conditions in urban areas.
However, their deployment should not slow down projects for pooling and professionalising delivery.
Switching from thermal vehicles to electric makes it possible to better comply with future regulations and reduce pollution, but the other challenge is to better organise flows to reduce the miles travelled and occupation of public space.
"The pooling of goods is based on a volume strategy to group deliveries together as much as possible. To provide local solutions, we're developing a local network of urban logistics spaces to reach the heart of the city in a short loop and thus optimise the mileage travelled."
- Delphine Janicot, Urby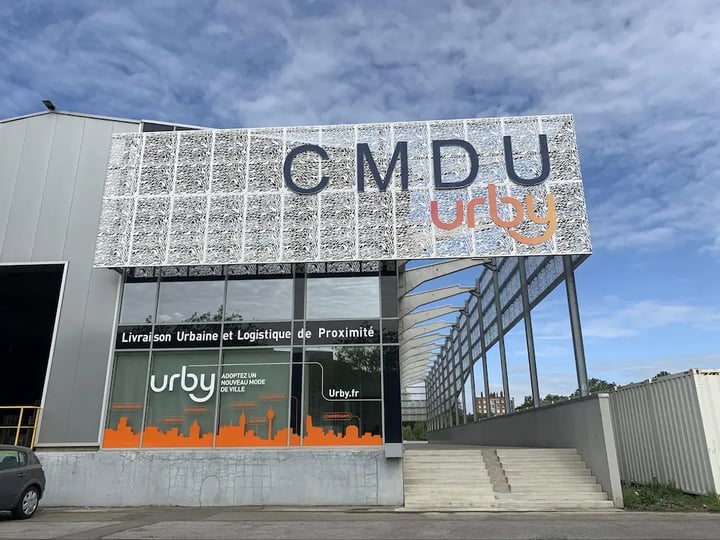 "We've developed a network of urban city-hubs allowing the orders to be pooled and grouped together."
- Benjamin Bourdeau, Swoopin
Optimising delivery rounds
Many players have emerged in the transport market in recent years.
Transport companies are in fact trying to get a digital lead and equip their delivery personnel with new solutions.
Urbantz, Antsway, Everest, Geoconcept, PTV, Here etc. offer delivery apps to digitise the process but, above all, to optimise delivery rounds.
These tools offer the chance to integrate all the constraints of the delivery person (delivery time slots, geographic constraints, level of service, etc.) and offer the best route.
They have many advantages:
Improving the productivity of delivery people;
Optimising and minimising the costs of using the vehicle fleet;
Reducing the environmental impact of the fleet;
Respecting delivery times and schedules, therefore improving customer satisfaction
Finally, the challenge for carriers is to combine efficient delivery, technology and respect for the environment.
"Our challenge is, thanks to technology, latest-generation vehicles and new delivery architectures, to enable consumers to receive their deliveries efficiently, while having a positive impact on the planet..."
- Benjamin Bourdeau, Swoopin
To make last-mile logistics efficient and less polluting, the prospects for innovation necessarily involve new energies, which will make it possible to deliver in an environmental way and better comply with future regulations in city centres.
Delivery operators and public authorities have a strategic role to play in the energy transition of logistics mobility.
"The role of K-Ryole, in addition to being a manufacturer of electric trailers, is to support companies in their ecological transition of mobility and the last mile."
- Marie Gribaudo, K-ryole
WOOP TOUCH
Thanks to its technological platform, Woop makes it possible to aggregate and orchestrate all delivery offers on a single interface.
This enables delivery routes to be optimised and grouped together therefore reducing the CO2 impact for our partner brands.
In addition, Woop has integrated lots of carriers offering green and carbon-free delivery.
Woop offers local services focused on "last-mile" delivery solutions. Our technological platform, unique on the market, aggregates and orchestrates, on a single interface, all the delivery offers from more than 100 partner carriers. Woop identifies different delivery scenarios for its retail customers according to predefined criteria - price, quality of service, carbon impact - allowing them to choose the best offer at the best price, prioritising sustainable transport wherever possible.
Together with its customers and network of carriers, Woop forms a connected, efficient value chain offering consumers a perfect, committed, effortless delivery experience that's good for the planet.
Thank you for your expert words!
Partners
K-Ryole / Urby / Swoopin

Sources
RSE Magazine / Star Service 1 / Star Service 2 / Glossaire International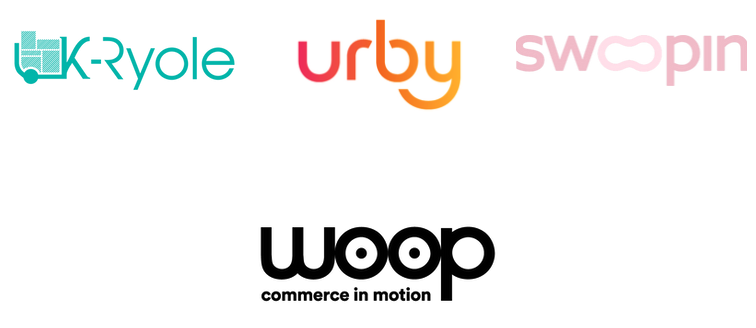 * The Tonne-kilometer is the unit of measurement corresponding to the transport of a tonne of goods (including packaging and tare of intermodal transport units) over a distance of one kilometer by any means of transport.

We can distinguish the gross Tkm, including the tare of the transport vehicle, and the net Tkm, which only include the weight of the goods.

Example:
The transport of 3 tonnes of goods over a distance of 150 kilometers corresponds to a transport quantity of 3 x 150 = 450 t.km.
Subscribe to our newsletter