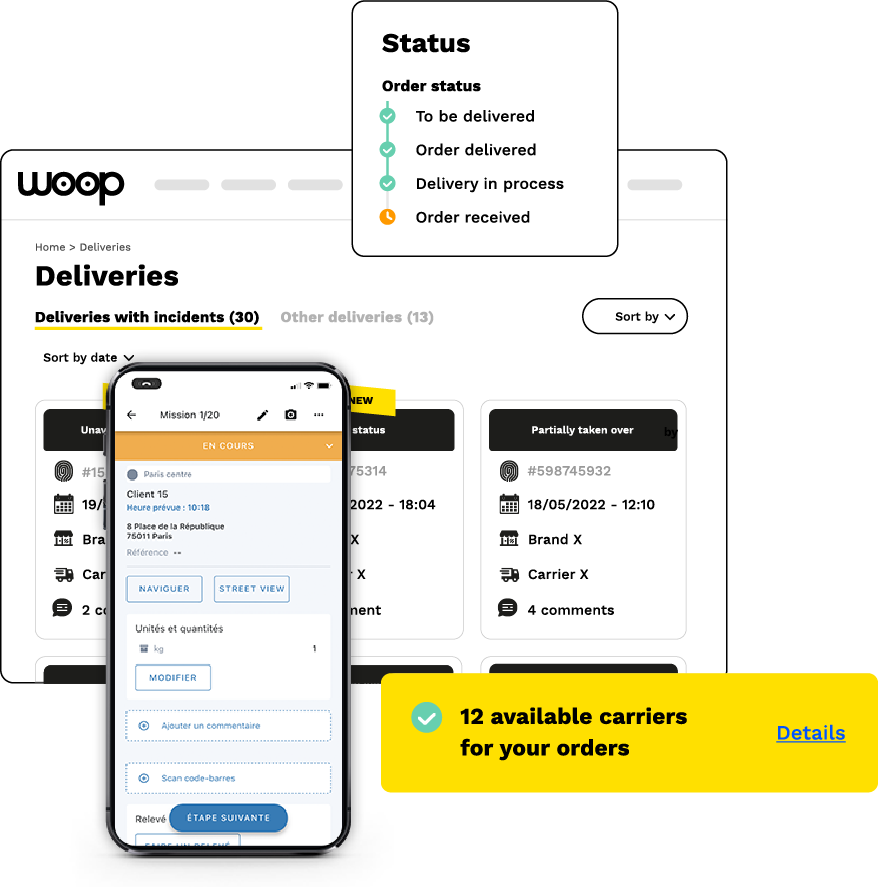 Take on the challenges of last mile delivery with Woop! #LASTMILE
How can you control the whole delivery line while e-commerce and omni-channel retail are booming?

How can you optimise the cost of last mile delivery?
How can you offer more responsible deliveries, in line with consumers' expectations?

How can you manage the customer's delivery experience in order to provide a seamless brand experience for consumers?
Our Delivery Management System orchestrates and optimises all delivery solutions in real time, providing your customers with the best possible experience, all whilst controlling your environmental impact. Harmonise all your delivery channels into a single technological solution.
Discover our products
Our Delivery Management System solution covers all last mile management operations.
Our services
Subscribing to the platform includes access to technical support and regular monitoring, all handled by your dedicated Customer Success Manager. In addition to these services, Woop offers optional services, which enable you to take full advantage of the platform and accelerate your transformation.
Our uses
The Woop platform centralises the management of all omni-channel delivery modes. However you use it, Woop makes your life easier.
A single platform for consolidating delivery flows
Consolidate and coordinate various delivery flows from a single point to overcome the complexity of omni-channel retail
Proximity
Day in and day out, our experts are able to support you in sourcing and selecting the carriers best suited to your business.
Sustainable development
Gain access to an infinite network of transport partners, especially green carriers, to limit the environmental impact of deliveries.