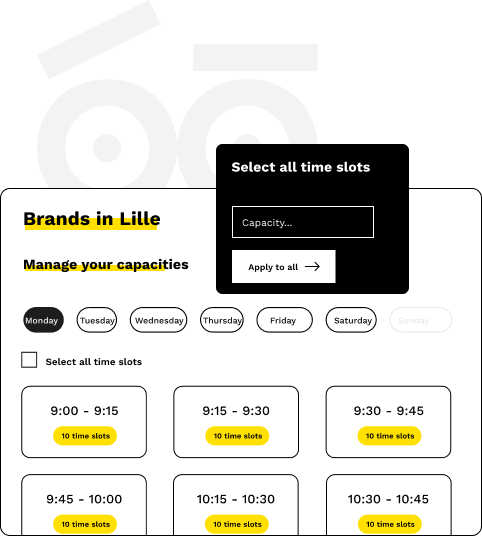 Easily create and manage the entire Click and Collect system
Woop SaaS platform facilitates the booking of collection slots which will be offered at the checkout of your website, when Click and Collect is chosen as the delivery option. Your customers can choose the pickup window of their choice, depending on the available capacity and the time slots you have configured.
Adapt to your organisation and customise with your branding
The flexibility of the Woop platform allows you to adapt the Click and Collect configuration to your store network. Whether you have one or several pickup points, located in one or more stores, and whether the service is configured by one or several managers, regardless of resource availability.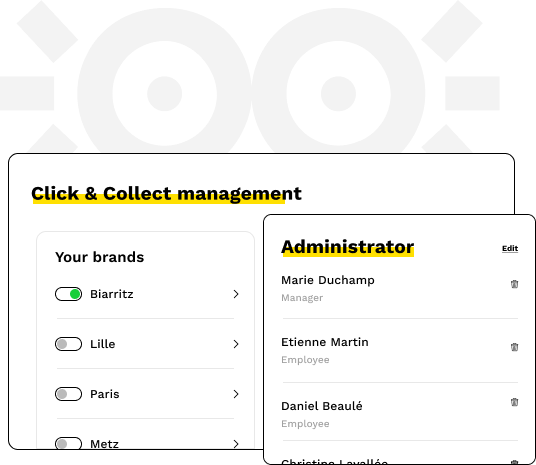 Advantages
An enriched customer experience
No more waiting at the checkout or at home. Your customers can pick up their orders when it suits them during the time slot of their choosing, on the same day or later, without having to worry about delivery times and costs.

Resilience
This new system for customers, supported by the French government during the health crisis, can be a lifesaver in the event of a store being forced to close, particularly for "non-essential" stores, which can offer in-store collection.

Drive-to-store
Click and Collect helps to improve your store stock rotation by offering it for sale online. It can also bring footfall to points of sale and generate additional sales.
Features
Key figures
carriers in the Woop network
savings on your transport costs
NPS (compared with the average for parcel delivery)
incoming calls from your customers
Set-up via the Back-Office
Woop provides you with independent management and configuration for each drive-through or pick-up point (duration of pick-up slots, available capacities) and lets you set up an automatically generated page for your customers, as well as SMS or email notifications, so they can track their order right up until collection.
Improving the customer pathway
Your customers can book and confirm a collection slot directly via checkout on your e-commerce website, and then edit it after confirmation. An order tracking interface is provided. When your customer arrives, they can signal their presence at the drive-through by clicking on the connection link on their smartphone.
KPIs available
A dashboard is available to tracks orders (status and incidents) and analyse the performance of the Click and Collect service. This means that you can coordinate and manage your teams precisely for each store where Click and Collect is deployed.