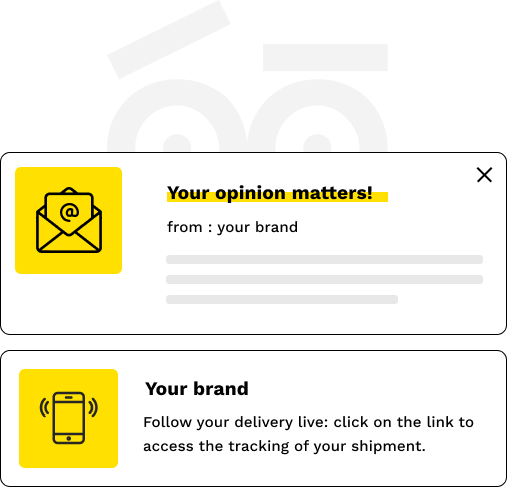 Reassure your customers with an intuitive delivery experience and measure their satisfaction.
With Woop, it's easy to create your own post-purchase customer pathway, customise with your own branding. After each delivery, you can create a survey to measure satisfaction and enrich your know-your-customer data. The information collected through this survey is used to enrich the platform's algorithms and is taken into account for future orchestration operations.
Access customised notifications and harmonised tracking pages.
SMS Notifications
Customised single- or multi-carrier tracking page
Your customer tracks the progress of their order(s) in real time via a tracking page customised with your branding, sent in an email or SMS on behalf of your brand, monitoring the exact timeline of the transport partner. Multi-parcel and multi-carrier orders can also be tracked via the platform.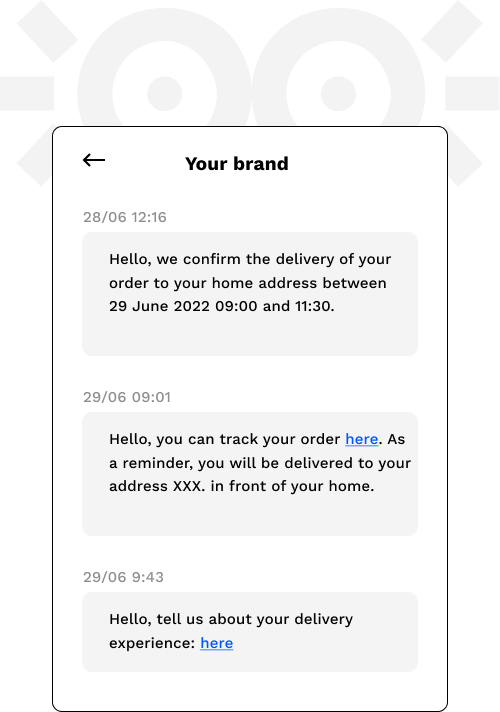 Advantages

Personalisation
Be the single point of contact for your customers, regardless of the transport partner selected, and communicate your brand image throughout the delivery process.
Reassurance
By informing your customers in real time about the status of their orders, you'll significantly reduce the number of incoming calls to your customer services.

Loyalty
Improve relations and build customer loyalty by providing them with visibility into their deliveries, using reliable and dynamically updated information.
Features
Key figures
carriers in the Woop network
savings on your transport costs
NPS (compared with the 34 average for parcel delivery)
incoming calls from your customers
Simplify returns for your customers
A label is automatically generated and given to them. Make it easy to return orders and give your customers the autonomy to do so.
Manage all your communication channels
Retrieve your consolidated data in a single interface and manage your activity in real time, and personalise communications with your customers between their purchase and the delivery.
Measure and keep your delivery guarantees
Thanks to transport data and our customer satisfaction surveys, improve your performance by motivating your carriers and your teams in stores or warehouses.