Delivery personnel: the first pillar of customer satisfaction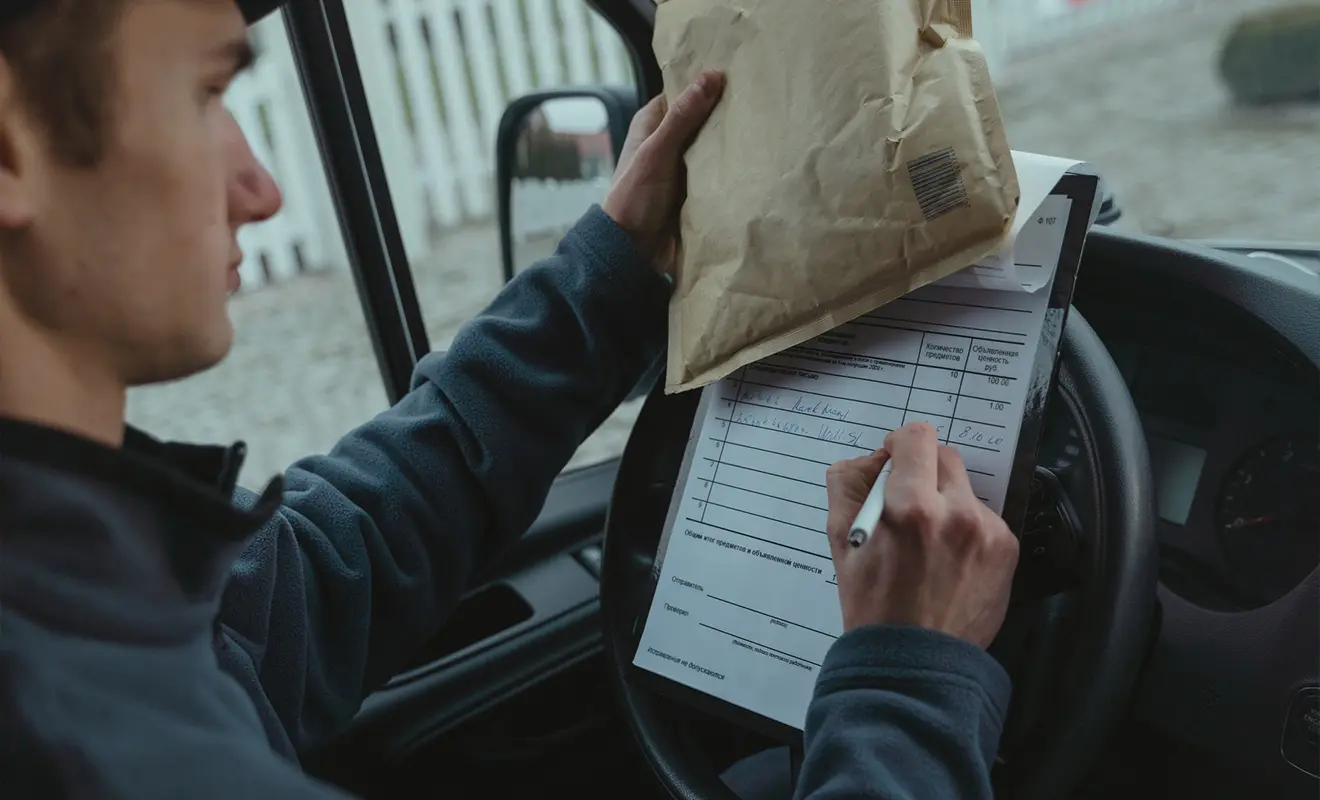 Who am I ?
Without me, last-mile delivery wouldn't be possible.
Many companies are trying to replace me with drones and robots.
Thanks to my eco-driving, I've considerably reduced the CO2 impact of my business.
Finally, I'm THE pillar of customer satisfaction.
Who am I?... The delivery person, of course!
Delivery person, a real job
The road freight transport sector employs more than 400,000 people in France and is one of the top 5 sectors of the economy in terms of turnover. At the wheel of a light vehicle, bicycle or heavy goods vehicle, the delivery person looks after the collection and delivery of the goods to the end customer within a given geographical area.
In addition to delivery, they're responsible for the condition of their vehicle, organise their journey by defining an optimal route, but above all ensure the relationship with the customer and represent the brand.
"In this highly competitive industry, they realise that they're the first and last image they'll leave in the consumer's mind. That's why we're particularly vigilant about friendliness, wearing PPE - to ensure their safety - , the branded Trusk uniform and the cleanliness of their lorries. We have a 360-degree vision of the brand image and are aware that this also goes for the vehicles that provide deliveries to our customers."
- Thomas Effantin / Trusk

Companies, increasingly concerned with the brand image conveyed by their delivery person, are asking for more personalisation.
This includes the brand's logo on vehicles and maybe the jacket worn by the delivery person. Some even push for personalisation in the words spoken by delivery people when out and about. Over the years, new missions are appearing such as delivery services, monitoring and traceability, for example.
The delivery person's job is more specialised.
Delivery services and new technologies are the main reasons behind this. Customer requirements and extending the brand experience have led the profession to take on new tasks, particularly delivery services such as commissioning household appliances or furniture assembly, for example.
Finally, omnipresent apps require change management and technological adaptation: optimisation of routes via an app, status feedback in real time, etc. New technologies are the main element driving the transformation of this profession, but not the only one.
"This profession is also being shaken up by the arrival of clean vehicles (electric, NGV, hydrogen), low-emission zones we'll soon have to respect in urban areas, new consumer behaviour linked to ecological awareness, and environmental protection and sustainable development."
-Thomas Effantin / Trusk
How can we recruit the right people to keep in step with the rise of e-commerce and delivery in France?
Is recruiting delivery people an easy task?
At first glance, the recruitment process for delivery personnel appears a traditional one.
"We publish ads on the job centre website as well as sponsored ads on the Indeed site. We also use our network pages: Linkedin, Facebook and Instagram to post job announcements. After drawing up a long list of CVs, we then start a second reading and finally determine a shortlist. We interview selected candidates and ask them to respond to an operational job questionnaire. Then we push the interview focus towards interpersonal skills."
- Sylvain Ledrole / Delivery Academy
It becomes more complex from there on however.
The main issues are turnover and a shortage of delivery people on the market.
Turnover, the bane of the transport world, has various repercussions for the company: decreased productivity, reduced team motivation, customer dissatisfaction.
"Turnover is very low among long-haul truck drivers. It's close to 40% among urban delivery personnel in large conurbations in particular."
- Sylvain Ledrole / Delivery Academy
The shortage of delivery staff can be explained most notably by the lack of attractiveness and mismatch of skills, but also by:
The handling of vehicles over journeys of varying distance every day in areas of varying levels of congestion.
The arduousness associated with handling (for the less fortunate, unloading heavy and bulky products every day).
The handling of new technological tools by the most experienced delivery people.
Salary
"It's a demanding job, and one that has constraints: loss of points, heavy traffic, productivity, lack of recognition, low pay. This explains the shortage phenomenon. The profession needs to be valued and also help delivery people develop their careers towards operator or even managerial positions."
- Sylvain Ledrole / Delivery Academy
This shortage effect is accentuated by the growing need for delivery people. The delivery sector is one of those recruiting the most in recent years.
Training is a lever to build loyalty and professionalise your delivery personnel
To overcome this, many companies are trying to enhance the profession of delivery personnel so that the job remains attractive to young people.
This notably involves training.
Transport companies are increasingly aware of the need to offer solutions that are more suited to young people entering the profession.
That's why Trusk created its Trusk Academy. This enables its subcontractors to consolidate their knowledge and, above all, develop strong, lasting operational skills.
"For our subcontractors, Trusk is the guarantee of being supported by professionals who can offer real solutions to provide its deliveries under the best conditions."
- Thomas Effantin / Trusk
When a new delivery person arrives in the company's workforce, they're usually taken care of by the most senior person, who shows them the right things to do and shares their experience with them.
Companies, due to a lack of resources, time and habit, have lacked support for training their delivery personnel.
This profession has suffered from a lack of consideration and the training part has been overlooked for too long. Some market players recruit subcontractors who aren't qualified and who haven't received specific training. This is the reason we set up the Trusk Academy."
- Thomas Effantin / Trusk
Changes in commerce and rise of home delivery have made this method obsolete.
As we have mentioned, the delivery profession is no longer about just knowing how to drive a vehicle and handle products; it's also a key success factor in customer satisfaction.
Today, more and more transport companies are structuring themselves to provide training to their delivery personnel and the first customer experience training organisations are appearing on the market.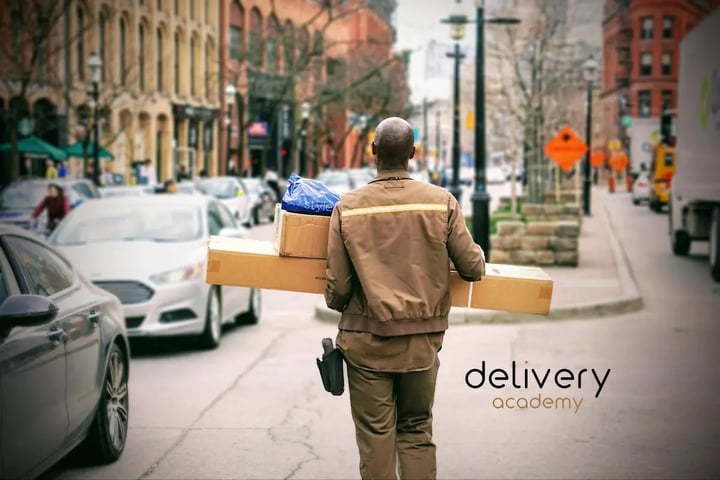 We're improving their knowledge on subjects rarely touched on: self-confidence, customer experience, legal, communication. This means adapting dynamic, new training geared towards properly enhancing the profession."
- Sylvain Ledrole / Delivery Academy
Environmental issues and the arrival of new, clean vehicles are also pushing companies to raise awareness and train their delivery personnel in eco-driving.
By adopting eco-driving practices, the company can see these CO2 emissions decrease by 10 to 15% on average.
"It's about going beyond the stage of increased accessibilityEco-driver training not only reduces gas emissions and fuel consumption, but also allows for flexible driving conducive to a more Zen attitude."
- Sylvain Ledrole / Delivery Academy
Carriers committed to their employees
Delivery people are the face of your company, representing brands to their customers.
Highlighting their work and daily commitment is essential.
Promote them and help their professional growth by offering them a career, because the delivery profession can undoubtedly be a career choice in which there is scope for development. (Fleet management, then development towards operator or even supervisory positions).
Training is a fundamental lever for improving the quality of service and customer experience.
Developing this human capital requires companies capable of implementing an HR policy oriented towards the well-being of employees and the development of skills and training.
All these axes place the delivery person at the heart of urban delivery.
"Training should not be an option but THE driver of growth. If we want to promote the sector, it's very important to increase knowledge about the professions and their opportunities. In addition to training, we must remain ambassadors for as many people as possible."
- Sylvain Ledrole / Delivery Academy
And how about a funny little anecdote to finish with?
"One of my newly hired delivery personnel couldn't find their vehicle after making a delivery. When they returned from their delivery, no doubt stressed, they'd taken the wrong parking street and had to call their operational manager to show them the exact location of the vehicle, which was equipped with a tracker."
- Sylvain Ledrole / Delivery Academy
"We delivered a goat to a customer who later became one of our investors. nothing is impossible with Trusk!"
- Thomas Effantin / Trusk
WOOP TOUCH
Woop supports local carriers in their digital transformation by providing technological tools (such as: a driver app that allows them to optimise their routes.)
Woop is building up its partnerships with operators close to the field such as the Delivery Academy, a training organisation in the urban logistics sector. This means delivery people can benefit from support and training that meet current consumer requirements.
Woop isn't just a technical intermediary, but can also act as an ambassador for our distributor customers by sharing market news, needs and the specific characteristics of each retailer with carriers.
As such, Woop has produced a carriers' book: a real cartography of the players in urban logistics and the last mile, ask for it now.
Woop offers local services focused on "last-mile" delivery solutions. Our technological platform, unique on the market, aggregates and orchestrates, on a single interface, all the delivery offers from more than 100 partner carriers. Woop identifies different delivery scenarios for its retail customers according to predefined criteria - price, quality of service, carbon impact - allowing them to choose the best offer at the best price, prioritising sustainable transport wherever possible.
Together with its customers and network of carriers, Woop forms a connected, efficient value chain offering consumers a perfect, committed, effortless delivery experience that's good for the planet.
Thank you for your expert words!

Sources
StarService / Le Figaro

Partenaires
Delivery Academy / Trusk
Subscribe to our newsletter