Why is Woop the favorite last-mile solution for carriers?
Driven by the evolution of customer needs, accelerated by confinements, omnichannelity has completely changed the nature and diversity of product delivery and collection flows. To meet these challenges, last-mile delivery is becoming the key to success.
These metamorphoses have inevitably impacted retailers regarding the importance of mastering the customer experience and therefore transport solutions. Therefore, they will look for new digital tools to offer more delivery solutions to their customers.
For carriers, this means a need to understand the new dynamics and challenges of the market in order to adapt to keep developing their business while controlling the level of service. It will therefore be essential for them to capture and respond to these new opportunities from retailers.
More than ever, transport must satisfy supply chain organizations and therefore the end consumer. It must provide fast, efficient, economic, and more environmentally responsible services.
- 60% of customers will go to a competitor if it offers better delivery options. (Source: One Stock)
When you realize this, it is not difficult to understand why retailers seek to source multiple carriers. They seek to surround themselves with specialists in order to ensure the best delivery promise.
To keep this promise, retailers must be able to provide their customers with accurate and reliable information about delivery methods and associated times. They are therefore seeking to offer their customers multiple delivery solutions (D+1, D+2, 100% decarbonized, Click & Collect). They also want to obtain as much information as possible in real-time on current deliveries.
In order to honor these new delivery promises, the market has seen the emergence of new, less conventional delivery solutions. In particular, because the consumer will be attentive to delivery times, its cost but also increasingly to its carbon footprint. Moreover, 50% of customers abandon their shopping cart if the delivery options are unsatisfactory. (Source: One Stock)
At the same time, the brands present in France and sometimes internationally are looking for transport providers capable of offering the same promise and the same level of service in all territories.
How to cope with the rise of omnichannel? How to ensure the delivery promise? What digital tools exist to help carriers face the new challenges of the market?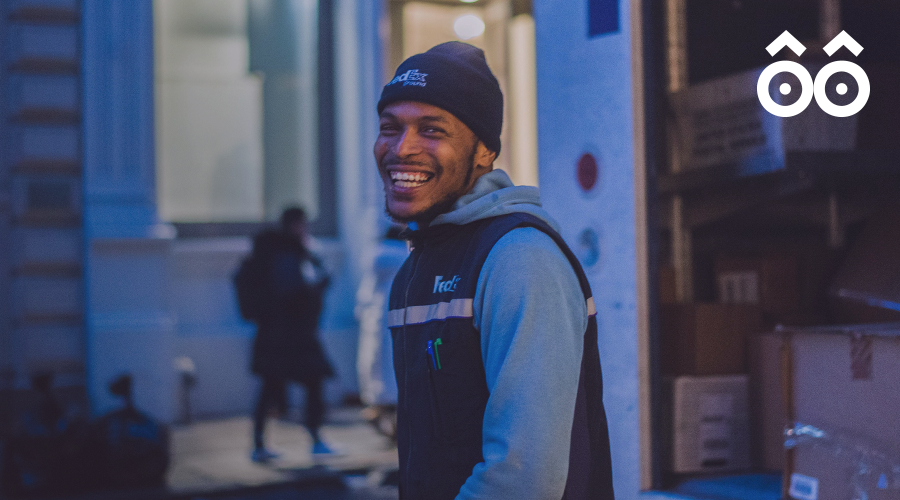 Platforms to meet the new challenges of transport
Innovative digitalization tools to develop carriers' business
Thus, last-mile delivery is becoming very important for retailers and therefore for carriers. Digital solutions have been born from this challenge to enable carriers to ensure that the delivery promise is kept.
In order to improve their performance, retailers are choosing solutions such as Order Management Systems (OMS). These platforms give them access to real-time and reliable data.
More recently, Delivery Management System (DMS) solutions have emerged. The Delivery Management System is a technological solution that allows the global control of the last mile: from the orchestration of the delivery to its execution with the optimization of the tour for an enhanced and successful customer experience.
By connecting to a DMS such as Woop, retailers are freed from the costs, time, and internal resources required to connect each of their transport partners. Interestingly, Woop is already networked with an ecosystem of over 400 carriers!
On the transport side, this brings them new growth drivers. Indeed, by integrating this platform, they are able to meet the new demands of retailers. Thus, they will be able to develop their activity by increasing their flows while benefiting from the DMS technology to manage their activity.
It also allows for efficient tracking of the progress of deliveries. Some DMS, such as Woop, offer to send notifications instead of the carrier (via SMS and e-mail). With the help of a tracking page in the brand's colors, the retailer can quickly inform its customers about the progress of their delivery.
40% of French's favorite retailers rely on Woop DMS to deliver an unforgettable delivery experience
(OC&C Ranking 2021)
There are many types of transporters: international, national, local, relay points and consignments, cyclo-logisticians, or even collaborative platforms. All of them can provide new solutions to physical stores, e-retailers, and consumers on these last mile issues. The presence of multiple carriers on a DMS also provides them with a showcase for the retailers using this platform.
Innovative digitalization tools to help transporters optimize their routes
Always linked to the increase in consumer demands, transport players must remain competitive. To meet this last mile challenge, route optimization solutions accelerate transport performance.
Route optimization helps carriers to find the best solution to visit all the depots while respecting a set of constraints. Mapotempo by Woop is an expert solution for route planning, optimization, and tracking.
This comprehensive solution meets a real strategic challenge. It will be possible to manage its fleet of vehicles by importing each vehicle and customizing its characteristics with precision.
Planners will also be able to:
Define the geographical and time constraints of their tours,
Enter costs,
Associate geographical areas with their vehicles,
Etc.
Artificial Intelligence will generate the delivery routes to minimize costs while respecting operational constraints. The planner can then view the route details for each vehicle and make adjustments if necessary. When using route optimization software, it is estimated that transport costs can be reduced by 15% to 30%. This reduction goes hand in hand with a reduction in CO2 emissions.
Delivery drivers will be able to find addresses to visit and update delivery status in real-time via the mobile application. In addition, the application allows for the capture of proof of delivery which allows for real-time feedback of vehicle position and mission status (planned, in progress, done, canceled, etc).
This complete solution reduces the distances traveled during deliveries by 23%. It improves the working conditions of the drivers and planners by reducing their stress thanks to balanced and optimized routes.
All these data will allow the planner to have an overview, in particular :
Access to tour reports,
Satisfaction by the carrier,
The advance rate by the carrier,
The delay rate by the carrier,
Customer satisfaction by the shop and by the carrier,
Etc.
All this data is very valuable and provides real support for decision-making.
The importance of made-to-measure support
Benefit from carrier expertise
With the changing landscape of the last mile, business experts should not be overlooked at the expense of digital solutions. It can be interesting for carriers to benefit from the advice of transport experts. The latter will be able to assist them in the global transformation of their processes and the customer experience around delivery.
In this sense, Woop's DMS is much more than a technological solution. Experts offer human support and specific technical services to accelerate the transformation of their transport partners.
It may therefore be worthwhile for carriers to opt for a business solution. It will be able to support them in the overall transformation of their processes and customer experience around delivery. This ensures greater simplicity, peace of mind, customer satisfaction, and optimization.
The transport experts ensure proximity to their network of transport partners and exchange information with them on a regular basis. This proximity ensures a smooth exchange and the best solutions for retailers.
Access to data to boost your business
Tracking KPIs to monitor performance
In today's world, it is essential to use data to optimize performance.
As seen above, the DMS offers personalized support and monitoring. It also helps carriers and logistics professionals with their digital transformation and provides them with technical solutions.
Each carrier will be able to benefit from the monitoring of Data, such as KPIs :
quantitative, which will be used to monitor activity (volume, weight, type of parcel, etc.)
qualitative, to monitor the rate of compliance with the delivery promise, the customer satisfaction score (from 1 to 10) and the NPS (Net Promoter Score), the recommendation score
"business", which will be used in particular to monitor the evolution of market share
In particular, the Woop DMS made it possible to achieve an NPS score of 75, compared to the 34 usually observed in parcel delivery. This is made possible by a smooth and perfect delivery experience throughout the delivery process (notifications, tracking, etc).
A unique label in the supply chain world
For local carriers, a unique label in the supply chain world was recently created: the Woop label. Based on 5 technical, functional, quality, social and environmental criteria, it recognizes and promotes their expertise.
Thanks to this recognition, local transporters gain legitimacy and benefit from the visibility of this label to boost their activity. They also increase their volume and revenue by being put in touch with Woop's client brands. More than just a certification, joining this label offers many privileges. The "Woop+ Label" entitles you to a personalized invitation to an event once a year (retail, tech, or supply).
Finally
Finally, the last mile Woop platform is the preferred platform for carriers because it allows them to respond to the new challenges of transport and to have new performance levers. Indeed, the Woop solution allows them to create new relationships with major brands wishing to increase their delivery solutions. This is possible thanks to the tailored support of the team of transport experts. The latter will be able to advise them and promote them to retailers.
Transporters will also have access to a valuable source of data on their performance. As a result, they will be able to analyze and monitor their activities accurately.
With the Mapotempo by Woop solution, transporters can benefit from reliable and efficient support to optimize their routes. This is a considerable advantage that allows them to reduce delivery costs and carbon emissions. Finally, Woop is committed to local transporters by offering them a unique win-win label. This label recognizes and promotes their expertise and helps them to boost their business.
Our Woop technology platform is available as a software-as-a-service and requires no on-site software installation.
For each delivery, the Woop platform automatically proposes different transport scenarios according to predefined criteria - price, quality of service, carbon impact - thus allowing you to choose the best offer at the best price while favoring soft mobility as soon as possible.
Subscribe to our newsletter