What is the average conversion rate for an e-commerce site in 2022?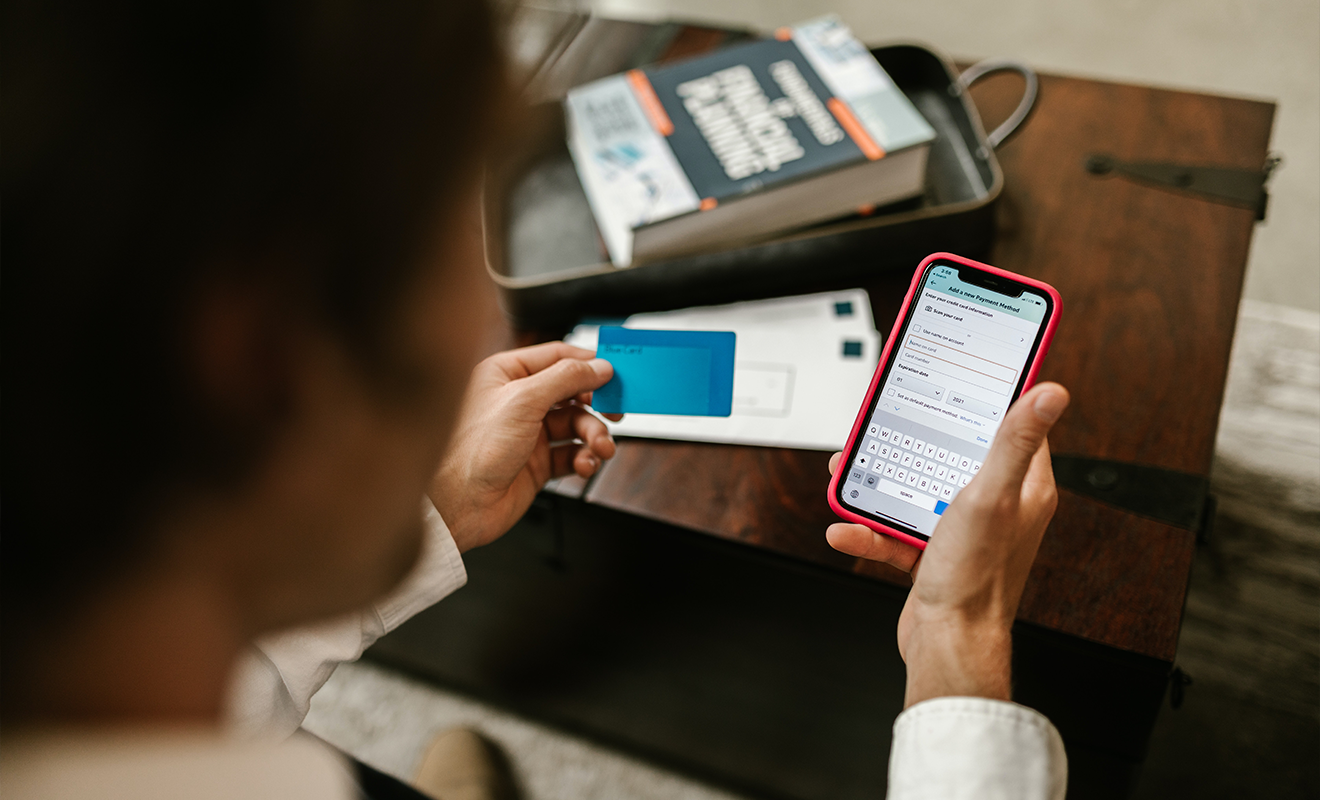 In 2020, e-commerce has played an important role in the fight against the economic crisis linked to the COVID-19 pandemic. The rise of e-commerce in France and around the world has changed our shopping behavior and retailing. With the restrictions imposed by the crisis, many traditional businesses have set up online sales and click & collect systems to meet new consumer demands.
In today's fiercely competitive online retail environment, it's important for site owners to compare their average conversion rates.
Wondering if your average conversion rate in 2022 was optimal and what minimum goal you could set for 2023? Well, in this article, we present you the average conversion rates by sector!
What is the average conversion rate in e-commerce?
Definition of a conversion rate in e-commerce
A conversion in e-commerce is the action of a visitor on a merchant site that pushes him toward the purchase of a product. This can be done by clicking on the final purchase button or by performing any other action defined by the site owner as a conversion.
The average conversion rate by industry is the number of conversions divided by the total number of visitors to the site. It can be used to evaluate the effectiveness of an e-commerce site and compare its performance to other sites. Knowing the average conversion rate of your e-commerce site can help you evaluate its success and identify areas for improvement to increase your sales.
What is a good conversion rate for a website?
A high conversion rate means that many visitors to the site are making purchases, this usually means that visitors are easily finding what they are looking for on the site and are therefore more likely to make a purchase. It is often considered a sign of success for an e-commerce site.
In contrast, a low conversion rate indicates that few visitors to the site go on to make a purchase.
E-commerce conversion rates by sector in 2022
So what is the average conversion rate of a merchant site in France? To give you an idea, we can tell you that, for all e-commerce industries combined, the average conversion rate for e-commerce in France has risen from 2.27% in 2020 to 2.96% in 2021, an increase of 30%!*
Nevertheless, the conversion rate must be used with caution because it cannot be understood independently, it is generally necessary to analyze this data through the prism of other parameters such as the sector of activity.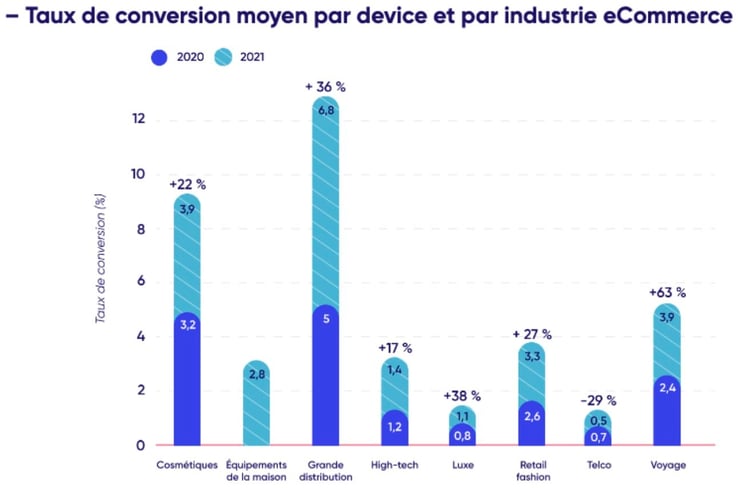 Digital Experience Benchmark 2022 from ContentSquare.
Retail sector
For the retail sector, the conversion rate was 5% in 2020 and 6.8% in 2021. This evolution clearly reflects the effects of the pandemic and symbolizes our increasing digitalization and entrenched shopping habits: many individuals have indeed opted (for many permanently) for online shopping.
Home furnishings sector
For the home equipment sector, the conversion rate was 2.8% in 2021.
Luxury sector
For the luxury sector, the conversion rate has increased by 38% with a conversion rate of 0.8% in 2021 and 1.1% in 2021.
Retail fashion sector
This sector has seen a 27% increase in conversion rate with a conversion rate of 2.6% in 2020 and 3.3% in 2021.
How to optimize the conversion rate of your e-shop?
Do A/B tests
versions of your site and find the one that converts the best.
For example, if you notice that a large number of visitors add products to their shopping cart, but only a few of them end up placing an order, this could indicate that you have conversion problems in your checkout tunnel. You could then perform A/B tests to improve the shopping experience on your site, such as simplifying the checkout process or adding security features to reassure customers.
Optimize the user experience
Improve the user experience by making your site easy to navigate, displaying clear information and providing a user-friendly interface. Implementing a more intuitive user interface, creating advanced search filters for easy navigation, or adding customization features help users improve their site experience.
In fact, this year, average bounce rates are expected to increase from 47% in 2020 to 50% in 2021. Your customers have less time to spend on your brand and expect efficiency!*
Track your site's performance
Use analytics tools like Google Analytics to monitor visitor behavior on your site.
This will allow you to measure the effectiveness and relevance of user journeys on the site, identify friction points or blockages and make informed decisions to improve the customer experience and increase conversion rates.
Reassure your visitors at the checkout stage
Set up a secure online payment process to reassure customers and encourage them to proceed to the purchase stage. Here are a few ways:
Engage your brand by complying with requirements and best practices. Afterward, you can notify them on your site with trust logos and security badges to show that your site is secure and reliable.
Provide clear and detailed information about the security measures you take to protect visitors' payment data.
Offer multiple payment options (credit cards, e-wallets, and online payment systems).
Implement a process to verify payment information to prevent fraud and errors.
Use a reliable and reputable online payment provider (PayPal or Stripe). It is important to show visitors that you take their security seriously and that you do everything in your power to protect their payment data.
Offer various delivery methods
Following these 4 steps, we advise you to offer a variety of delivery methods. Present them both at the time of payment and beforehand, directly on your product sheets. This will allow you to reassure and convince your visitors that the proposed deliveries will be adapted to their needs and requirements. Discover all our tips for choosing the different e-commerce delivery methods in our dedicated article.
By following these steps, you should be able to optimize the conversion rate of your e-commerce site and improve the performance of your business. Knowing your conversion rate will help you understand how visitors interact with your site and make decisions to improve its success!
*Digital Experience Benchmark 2022 from ContentSquare.
Subscribe to our newsletter