Trends in the food delivery market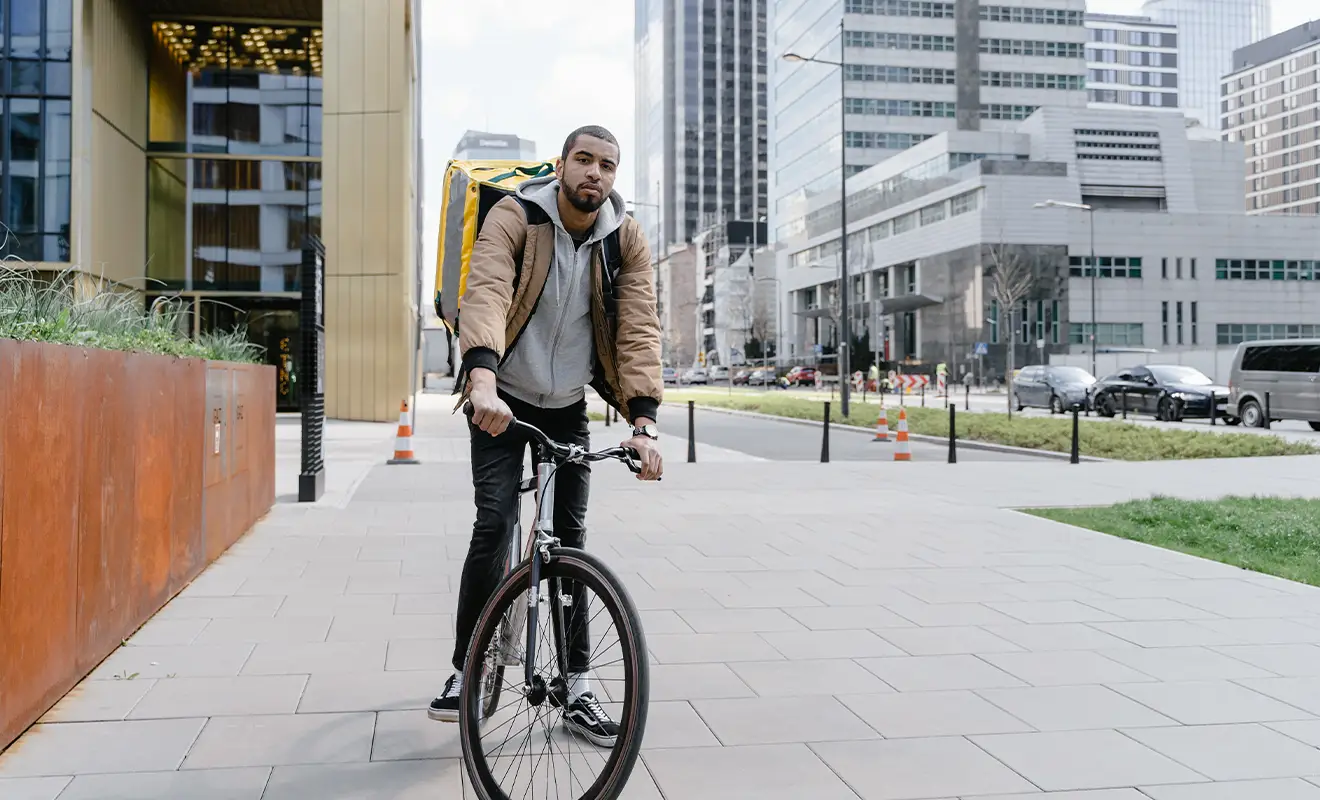 Home delivery of food products is appealing to more and more consumers, especially urban consumers located in large metropolitan areas.
Today, about 67% of urban consumers visit physical stores because they prefer to have the product in their hands or simply enjoy the "physical experience" in store. And only 3% of consumers only use home delivery. However, the most popular mode of consumption is the "hybrid" mode, i.e. combining in-store and online purchases, and represents 30% of consumers.
The various delivery services (home or workplace, drive, click & collect) have proven their effectiveness during the year 2020 with an increase in turnover of 42% for the car drive and over 211% for the pedestrian drive.
In short, drive, click and collect or home delivery, it's up to the consumer to choose.
In this article, discover the different challenges faced by retail brands and specialized transporters and explore the upheavals brought about by the arrival of new players on the food delivery market.
The challenges for retailers
With the increase in online orders, last mile delivery is more important than ever. The challenge for retailers is to successfully orchestrate all delivery methods, optimizing flows and associated costs while ensuring fast, high-quality shipping.
Home delivery is still a major operational challenge, especially when it comes to chartering foodstuffs. Indeed, this type of delivery meets demanding standards that must be scrupulously respected, increasing the associated costs.
Adapt to new consumer expectations regarding delivery services
Seduced by the simplicity, speed and flexibility of the services, consumers no longer hesitate to opt for home shopping delivery. Indeed, consumers can now choose the delivery option that best suits them from a variety of offers and services.
In addition, the health crisis has given a real boost to the home delivery market.
"The year 2020 has had a real accelerating effect on the delivery industry and our business will therefore continue to grow by opening up to more and more industry verticals. This is an important criterion for purchase decisions and customer loyalty, which are increasingly demanding, retailers and supply chain players will need to succeed in delivering more while addressing the challenges of carbon footprint, city congestion, social responsibility and last mile cost."
- Chloé Baruchel, Grocery & New Verticals Lead Uber Eats France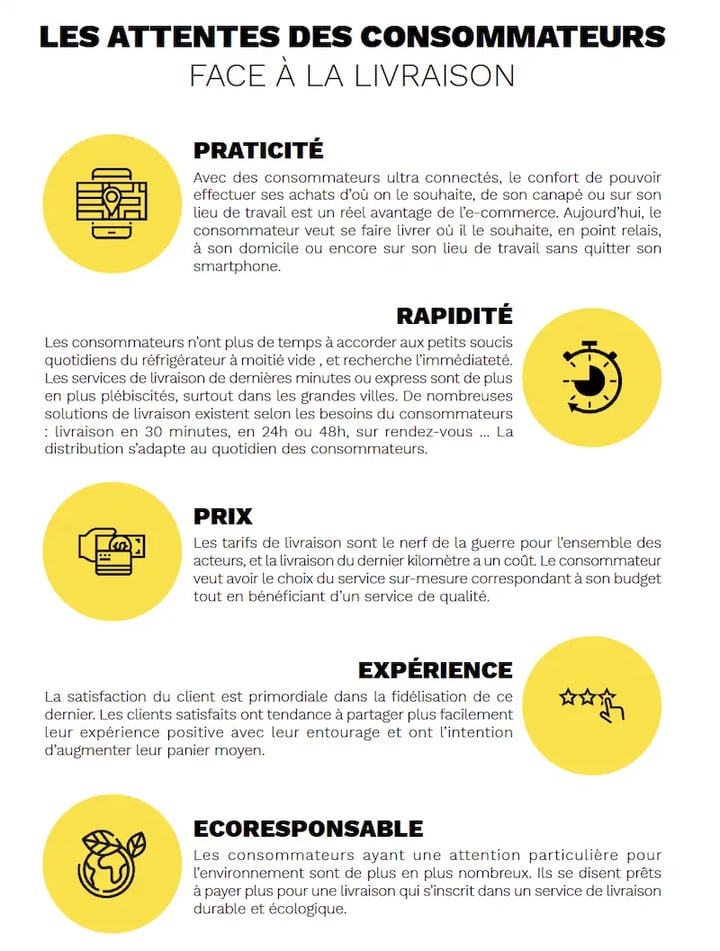 Today's consumers are increasingly demanding with brands and prefer a wider range of purchase and post-purchase services in large retailers.
The customer experience only ends once the product is delivered where, when and how they want it. Delivery services must therefore be flexible.
Orchestrate and optimize new flow volumes
With the boom in food delivery and the new volumes of orders to be absorbed, e-commerce players must adjust and develop their logistics strategies, in particular by calling on new types of carriers capable of adapting to the preservation of the cold chain, to peaks in activity or to urban and ecological constraints.
The evolution of the volumes of online orders observed since the Covid-19 health crisis, brings a double challenge to the brands: to succeed in orchestrating these new volumes of flows and to optimize the delivery costs.
Managing the cold chain: the know-how of transporters
With the dual objective of perfect delivery and a successful customer experience, carriers have an essential role to play and are committed to respecting two strong constraints: respecting the cold chain and delivery times.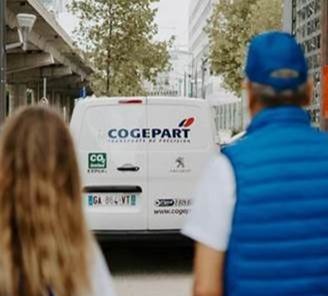 "The main issue in food deliveries is the control of the cold chain, which we optimize through employee training and the acquisition of a quality fleet."
- Louis Ioualalen, National Key Account Manager Fresh COGEPART
For deliveries over shorter distances, with transport solutions such as cargo bikes or electric scooters, the cold chain is maintained through the use of refrigerated bags. These solutions are thus able to ensure correct temperatures over short distances, without the need for refrigerated vehicles.
"For food delivery, we have temperature-controlled solutions on electric, CNG, thermal and bi / tri temperature vehicles, or soft mobility (bicycle, cargo bike, three-wheelers) to meet the needs of all our customers"
- Louis Ioualalen, National Key Account Manager Fresh COGEPART
In order to position themselves in this market, players in the food industry are deploying their strategies by establishing new partnerships.
Focus on the new players who are shaking up the market
Until now dominated by traditional players, this market is opening up to new opportunities generated by the evolution of consumer needs and demands. In less than a year, more than twenty foodtech start-ups have launched in France, promising ultra-fast (15 minutes) home delivery of food shopping.
New players such as Gorillas and Cajoo are hoping to conquer urban centers and attract a population of young working people who are already e-consumers.
Collaborative delivery: a service favored by brands for food delivery
Collaborative delivery platforms, between individuals, are appearing more and more on the market of food deliveries in the city center. The idea is to connect people who need to be delivered with those who can help them by taking advantage of a personal journey. Promoted during the Covid-19 health crisis, mutual aid and solidarity have given a boost to the collaborative delivery mode.
"We realized that there was a lot at stake in last-mile delivery. Today, Shopopop is the promise of a 2-hour delivery anywhere in France."
- Johan Ricaut, Co Founder Shopopop
If, in the past, the transport of foodstuffs remained the preserve of the traditional refrigerated transporters, the new requirements of speed of the consumers allow to open the market to new actors.
The rise of the "quick commerce" players
These new players are organized in a "quick commerce" mode, which means that they offer fast, competitive and urban delivery services.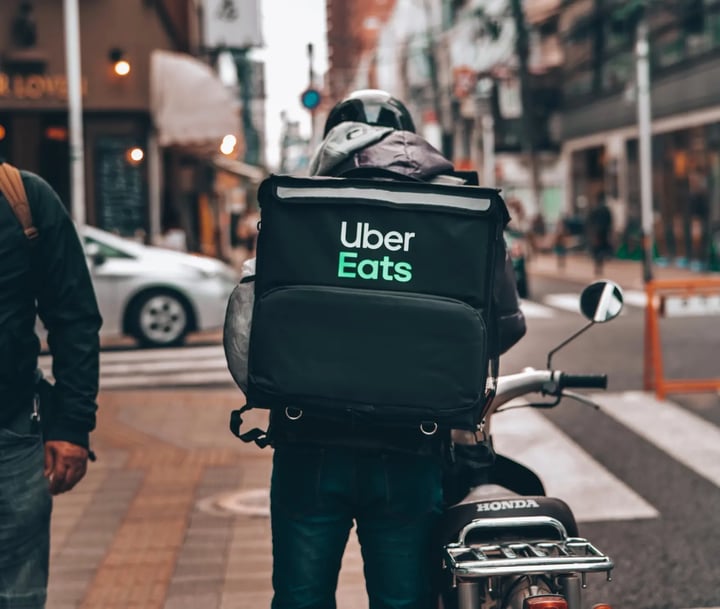 "We are an intermediation technology platform that connects restaurateurs and merchants with independent delivery drivers and customers, we provide the technology to offer last mile delivery and logistics services. We support end consumers as much as merchants and delivery companies to provide a smooth, reliable and fast delivery experience for their everyday purchases."
- Chloé Baruchel, Grocery & New Verticals Lead Uber Eats France
Their speed also becomes their greatest asset when we know that these players are positioned on the market of eco-responsible or green delivery thanks to their means of specialized carriers for urban environments.
"The urban delivery solutions we provide are designed to give or increase consumers' access to their merchants, allowing them to benefit from a virtual storefront. These solutions also offer consumers a smooth, fast and reliable delivery experience, meaning with the right tools to schedule and track deliveries and effective support when needed."
- Chloé Baruchel, Grocery & New Verticals Lead Uber Eats France
Our Woop technology platform is available as a software-as-a-service and requires no on-site software installation.
For each delivery, the Woop platform automatically proposes different transport scenarios according to predefined criteria - price, quality of service, carbon impact - thus allowing you to opt for the best offer at the best price, favouring soft mobility whenever possible.
Thanks to Cogepart, Uber Eats and Shopopop for their participation.

Subscribe to our newsletter