All about Woop's transport expertise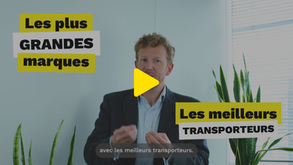 Today, we give the voice to Alexis Quesney, Managing Director of Woop, and Victoria Helinck, Woop Transport Manager, in our latest video. In 120 seconds, they show you how Woop helps transport companies to boost their delivery activities. Discover also the testimonies of Bertrand Leroy (General Manager Urby), Rémi Lengaine (CEO Colisweb), and Jacky Keunebrock (General Manager Interia), our carriers interfaced to Woop who express the benefits of their integration to the Woop platform.
Want to boost your delivery business?
We are very pleased to present our video which reveals the closeness between Woop and its carriers.
This video highlights several key elements:
A team dedicated to transport expertise
More than a technological solution, Woop is a dedicated team of transport experts who bring real human expertise, essential to accompany transporters in their challenges. Our employees are constantly on the move to serve our ecosystem of partners and customers, defined by the famous "commerce in motion".
Woop's transport expertise allows carriers to benefit from our technology to manage their business. We act indirectly as a business introducer by highlighting their specificities (environmental impact, geographical coverage, value-added services, quality level, type of parcels handled, ...) and introducing them to retailers and chains. This is a considerable asset for them to develop their turnover by increasing their flows.
We also support them in their digital transformation and provide them with technical solutions such as the KPI offer to monitor their performance, in addition to personalized support and monitoring.
A wide variety of carriers connected to Woop
No less than 400 carriers are identified in the Woop network with various specificities: relay network and consignments, commission carriers, bike couriers, collaborative, international, and national carriers. We can thus offer several use cases such as ship-from-warehouse, ship-from-store, click & collect and post-purchase.
Of these, 150 carriers use our Woop Delivery Management System (DMS) and its solutions on a daily basis to connect with major retailers and develop their business. These carriers are a key part of our last-mile delivery orchestration and solutions.
This plurality of transport offers allows retailers to enrich their delivery offers and optimize their omnichannel pathways. Our experts are also available to assist them in sourcing and selecting the most suitable partners for their business and their customers.
In our video, you can discover the testimonies of committed transporters with different expertise: freight forwarder (Colisweb), decarbonized (Urby), and local (Interia).
At present, we have a comprehensive catalog of green carriers all over France (pedestrian and cyclo-logisticians). Woop also offers the largest network of local transporters for local logistics.
The label Woop
In 2022, we wanted to go further and promote local transporters eligible for the quality and service criteria of the Woop network: technical, functional, quality, social and environmental criteria. From this desire was born the label Woop, unique in the supply chain world.
The Woop label gives local carriers greater visibility and thus accelerates their activities by putting them in touch with Woop's client brands.
Finally
Woop is more than a technology platform, it is a group of committed people who are proud to contribute to making delivery perfect and accessible to everyone. Thanks to our team of transport experts, we offer personalized service and support each carrier in the development of their business.
We would like to thank Bertrand Leroy (General Manager Urby), Rémi Lengaine (CEO Colisweb), and Jacky Keunebrock (General Manager Interia) for taking the floor to explain the benefits of our collaboration.
Want to know more about how connecting to Woop can benefit your business?
Contact one of our experts.
Our Woop technology platform is available as a software-as-a-service and requires no on-site software installation.
For each delivery, the Woop platform automatically proposes different transport scenarios according to predefined criteria - price, quality of service, carbon impact - thus allowing you to choose the best offer at the best price while favoring soft mobility as soon as possible.
Subscribe to our newsletter