7 questions to Matthieu, CMO at Woop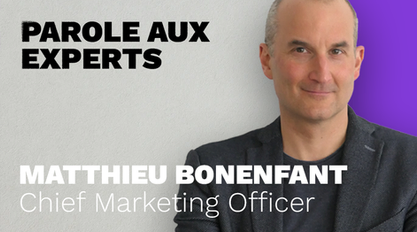 In this Expert Talk format, we give the voice to the experts who contribute to Woop's success every day. Today, let's meet Matthieu, our Chief Marketing Officer (CMO). He will explain to us what his missions and daily challenges are.
Hello Matthieu, can you tell us about your experience?
Matthieu Bonenfant (CMO Woop): Currently, I have a career of about 20 years. I obtained an engineering degree in information systems and information technology at the Institut Mines Telecom (IMT). I very quickly turned to the technological field of cybersecurity.
I first worked as a technical support engineer in a cybersecurity start-up. Afterward, I moved to Product Management and Product Marketing, to bridge the gap between business, customer needs, and technical aspects.
A few years later, after having participated in the construction of the first French cybersecurity editor, Stormshield, as Product Director, I was appointed CMO. I then expressed the need to validate specific skills and enrich my knowledge in marketing. So I took the Certificate Program Marketing at UC Berkeley. Studying in the evenings and on weekends took me two and a half years to get it, which was quite intense.
After this intense experience at Stormshield, I felt the need to project myself into something different and above all to taste again the energy of a start-up. When I had the opportunity to join Woop, I jumped at the chance because the company ticked all the boxes!
What does the job of a CMO at Woop involve?
There are several activities in my area of responsibility. In particular, I have to collect all the data that will help guide the company. We have to analyze and understand the market, identify opportunities for development and growth, and find out about our competitors so that we can then feed the whole company and define the route we want to take, and the targets we want to address.
Secondly, there are externally oriented activities with the promotion and marketing of products and solutions. This includes brand communication operations, acquisition marketing campaigns, and event management. It is also necessary to assist the sales force in its actions: sales support tools, the definition of value propositions and associated messages, assistance in understanding the competitive environment, and what our strengths and weaknesses are.
We also find the definition of the Go-To-Market that is to say, the plan to be executed to introduce our products in a new market or an evolution on the current market. We will therefore cover issues of price positioning, sales channels, promotional campaigns, and communication. This plan must be based on a very clear value proposition concerning our products, our technology, and our know-how.
Finally, the scope of responsibility includes internal communication activities and the management of the company's branding.
What qualities do you think are necessary to be a good CMO?
In my opinion, you need to be curious and a good listener. You also need to be agile in order to be able to work simultaneously on short and long-term projects: operational issues being more short-term, while strategic ones can be spread out over several months or years.
You have to be able to handle the pressure because there are many issues that collide. It is therefore important to prioritize actions and plan ahead.
Personally, I still believe that in order to grow in a sustainable way, a company must rely on marketing that respects its prospects and customers. This means striving to send targeted communications to people who are genuinely interested or promoting a genuine value proposition that the company can actually deliver. Finally, it shouldn't have to be said, that marketing has to work within the framework of regulations, especially for contact acquisition and solicitation or the protection of personal data.
What are your beliefs about your domain?
The marketing of a BtoB technology company has special characteristics. It is necessary to have a good understanding of the business and the needs of the client companies you work with.
In B2B, it can be complicated to probe the expectations and pain points of prospects when the relationship of trust does not yet exist. As a result, there is a need to be able to enter fully into the ecosystem to learn about the daily professional lives of the people who will use our technology. Understanding our customers' businesses allows us to identify solutions to their pain points and ensure that our value proposition makes sense to them. This requires us to develop comprehensive marketing functions that integrate the business dimension of the customers and therefore go beyond the general marketing knowledge and skills that you learn in school.
My conviction would therefore be that it is necessary to make the effort to get into the subject that concerns customers. In order to understand this subject, you need to develop multiple sensors in order to gather the right information (exchanges with prospects, existing clients, partners, professionals in the sector, analysts, participation in dedicated trade fairs, reading articles, and specialized books, etc.). This requires certain mental agility and a large dose of curiosity.
The last fundamental point in my opinion is that we must try to offer marketing based on an ethical approach. There has been a lot of talk about certain marketing techniques, particularly in growth hacking, which can be quite "borderline" in the way they collect customer contacts or inundate prospects indiscriminately.
What is the project that makes you most proud?
The first strategic project I worked on when I arrived at Woop was the definition of the Segmentation Targeting Positioning (STP) that is to say, the definition of the first customer targets that Woop had to address and also the value proposition and the corresponding messages. It was therefore an important and structuring first step that will of course lead to future developments.
I also appreciate the fact that we have put in place an efficient marketing and communication organization that can support the company's strong growth. Finally, I am happy to have participated in the integration of Mapotempo, even if we are still in the early stages of our joint adventure.
What are the main challenges you face on a daily basis?
The day-to-day challenge in a high-growth start-up is to move very quickly to capture the market in the short term while preparing the company for what happens next. You have to be careful to structure the activities as much as possible without becoming rigid.
To support growth, this structuring work must be done in parallel with operational activities. As mentioned earlier, it is essential to prioritize actions and make choices among the many opportunities available to us. And from now on, we must ensure that the Marketing-Communication team in place ensures a rapid rise in the skills of the new arrivals!
How do you view the last mile market?
The last mile market, in terms of suppliers and technologies, is still very fragmented. It is a new market that is gaining in maturity, where needs are beginning to be formalized and expressed. There are many opportunities that present themselves to us, but also many direct or indirect competitors who will each cover part of the last mile problem.
The particularity of the last mile compared to the world of supply chain and transport is that it introduces a BtoC dimension into an environment that was historically very BtoB oriented. Indeed, the last mile implies contact with the final customer, who is a consumer and not necessarily a company.
As a result, there is a big issue around customer satisfaction. Delivery has become a criterion of choice for consumers when they order online. If the delivery experience is not successful, this can be very damaging to the brand and the consumer, who is now much more volatile, may switch to the competitor.
It's an environment with many challenges, especially in terms of cost optimization, since the last mile is the most expensive link in the supply chain for the delivery of a product, but also in terms of reducing its environmental footprint. This last challenge is one of the reasons that motivated me to join Woop because I wanted to join a company that could have a positive impact on the planet.
Although Woop favors deliveries that have negative externalities, we believe that we can take concrete action to change the way we deliver in an environmentally friendly way. Today, there are solutions to achieve low-carbon deliveries, based on soft mobility means. Woop can help to orchestrate these solutions efficiently and make them available to all companies that rely on delivery to develop their business.
To continue the discussion with Matthieu or one of our experts, click here:
Subscribe to our newsletter