Webinar #4: Unified DMS, the solution for efficient and responsible delivery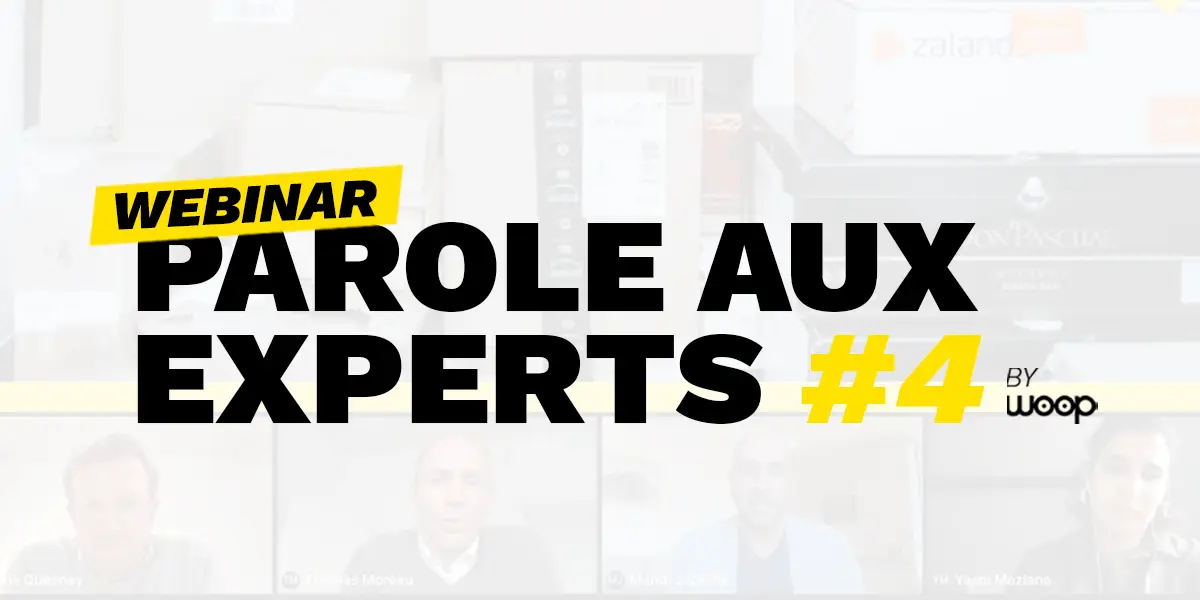 Woop, along with a panel of experts, have deciphered for you the rise of the unified Delivery Management System for a responsible and efficient omnichannel commerce.
Today, last mile logistics contribute up to 25% to air pollution in cities. Last mile logistics must therefore reinvent itself to meet the ecological challenges.
Woop & Mapotempo, recently announced their merger with the aim of developing a new and mastered offer: the "Unified Delivery Management System". In this webinar recap, we explain this synergy combining orchestration and execution of the last mile to serve a committed business.
Intelligent planning and optimization of delivery routes is a real challenge for logistics professionals, allowing for optimal networking of the #lastmile and a positive and concrete impact on our planet.
Our Speakers
Mehdi Jabrane, CEO of Mapotempo by woop, a tour optimization and gesture solution.
Thomas Moreau, partner at Adameo.
Alexis Quesney, CEO of Woop, which offers a platform for orchestrating all transportation solutions. Woop supports companies in shipping their products, regardless of the mode they choose, to help its clients fully satisfy their own customers.
And finally, Yasni Meziane, communications manager at Woop, who moderates the Webinar.
Some figures: impact of last mile delivery
Urban delivery means knowing how to manage special cases on a daily basis while aiming for maximum customer satisfaction.
A sector under pressure with a turnover that grows by 10% each year (fevad and ademe)
A drop in store traffic of 25% which is expected to last in the current context
A cost of transport of the last km which represents 30% of the total cost of the delivery of a product
In France, there are 10 million deliveries per day, 25% of which are empty
The last mile logistics corresponds to 20% of urban traffic, which represents 25% of the atmospheric pollution in the cities
Last mile logistics must reinvent itself to meet 3 challenges: economic, societal and ecological.
DMS context: market expectations
"Supply chain tools are one of the elements that must facilitate, fluidize and meet these challenges."
- Thomas Moreau, Adameo
The main challenges for the world of retail and transport
The digitalization of transportation is underway
Managing the complexity of flows and new customer paths
Transpose the brand experience to the delivery journey
Develop end-to-end visibility for all
"The DMS embraces a set of needs that is covered by Woop and Mapotempo by woop ."
- Thomas Moreau, Adameo
Woop and Mapotempo ideally positioned in the value chain
The challenges of the Woop x Mapotempo by woop merger
"The goal of this combination is, by combining our value propositions, to create a true unified Delivery Management System. That is, a complete platform that enables end-to-end management of last mile issues."
- Alexis Quesney, Woop
The Mapotempo by Woop connection allows:
Make perfect deliveries accessible to all
Orchestrate the last mile
Optimize, plan routes and track deliveries in real time
Offer a rich and complete solution from an operational point of view and very attractive from a carrier network point of view
"In a panorama of historical logistics solutions (ERP, WMS, TMS), new needs have arrived on the market: a unified Delivery Management System makes it possible to meet them."
- Mehdi Jabrane, Mapotempo by woop
For retailers: DMS allows to manage omnichannel deliveries (in drive, in lockers, in click and collect, in home delivery and in relay point)
"Woop and Mapotempo bring a unique solution to the French and European market."
- Mehdi Jabrane, Mapotempo by woop
The added value of Woop & Mapotempo is the fusion of Mapotempo's modular approach to tour management and Woop as the backbone of ERP.
The Human at the Heart of Technology
"This merger was made in line with our common values and ambition while putting the employee at the center of the project."
- Mehdi Jabrane, Mapotempo by woop
Human value: proximity to employees, customers and partners
"This combination expanded our functional scope to have an extremely complete and relevant solution."
- Alexis Quesney, Woop
Make a number of actors and partners work in an ecosystem
Making delivery more responsible: the Woop for Good approach
"⅓ of those under 25 are willing to pay more for delivery. " according to a study on the last mile by "Les Echos".

"The Woop For Good approach is to analyze all of our actions in light of the impact we have on what is around us and on the environment and our ecosystems."
- Alexis Quesney, Woop
Reducing the environmental impact of last mile delivery
Weighting of environmental criteria in the delivery method
Integration of a network of 100% carbon-free carriers in the Woop platform
Strict compliance with security standards (RGPD, IT security, etc.)
The benefits of a unified DMS
"The boundaries of the delivery chain have exploded a bit as the market has evolved, so retailers need to have more flexible, open, agile and responsive tools to meet demand."
- Thomas Moreau, Adameo
"The benefits that a Woop & Mapotempo DMS offers, center around 2 major categories: operational efficiency and enhanced customer experience."
- Alexis Quesney, Woop
Automate tasks that can be time consuming
Activate new carriers in a few clicks
Reduce delivery costs and miles traveled
Brand personalization and additional customer service
"The Mapotempo solution allows users and customers many advantages and benefits."
- Mehdi Jabrane, Mapotempo by woop
Reduction of kilometers traveled between 15% and 25%.
Lower costs
Ensures quality of service
Comfortable work environment for planners and deliverers
Reduction of the carbon footprint
"When choosing solutions, what will take precedence is the user interface."
- Thomas Moreau, Adameo
Ease of use in the user interface
Understanding and appropriation of the solution
Unified DMS ROIs
"The Mapotempo solution allows retailers to adapt its business to what may be an unfavorable environment, showing resilience."
- Mehdi Jabrane, Mapotempo by woop
Adaptable and agile tool for optimal resilience
Helps to (re)define the logistics network strategy of the customer's business
"The implementations of a unified DMS, Mapotempo by Woop will have an impact at different levels in the company: impact on logistics teams, marketing, customer services and technical."
- Alexis Quesney, Woop
Economies realized by the connection with the carriers we source and select the best local actor according to the selected criteria (about 10K saved)
Accessibility to a multi-company of carriers
Reduction of incoming calls regarding the progress of an order thanks to the communication of personalized and relevant information sent to consumers. ( -35% of incoming calls)
Increase sales by up to 16% in inventory turns
Ensure quality of service with an average NPS measured on the platform at 75
Bounce back on resilience and adapt the business to key periods
Conclusion
"The entire retail industry is evolving and changing, yesterday's practices no longer fully meet the demands of today and the years to come. These transformations, these changes, whether it's the uses, the pollution, the legislation, the customer experience, the digitalization ... there are a lot of issues that companies must respond to and position themselves. Companies that want to be pro-active must evolve their way of working and the services they offer to their customers. It is necessary to ask ourselves what are the new tools that will allow us to respond to these new challenges and how can they be treated in an efficient way in order to maintain market share, to respond to expectations, and to develop our business while being aware of the new constraints to which retail companies must respond. The unified delivery management system solution is interesting and meets a majority of current demands."
- Thomas Moreau, Adameo
The DMS opens up perspectives with tangible results
It contributes to the digitalization of transport and the support of brands and carriers
Responds to new market challenges: negative externalities, congestion, pollution, customer service, consumer experience, digitalization of transport, management of returns, legislation, ZFE, empty mileage, CO² emissions.
Thanks to our experts

Mehdi Jabrane from Mapotempo by Woop
Thomas Moreau from Adameo
and Alexis Quesney from Woop

#DMSunifié
#expertise
#ExpertSpeak
#delivery

Sources Fevad et Ademe
Subscribe to our newsletter