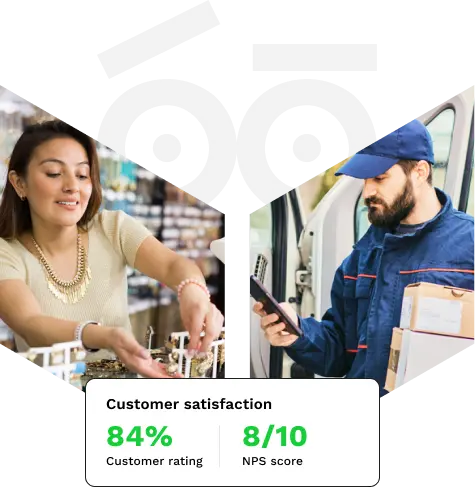 An optimised and perfected omni-channel experience for the luxury industry.
How do you control the entirety of the delivery flow in an omni-channel retail setting?
How can we offer the right level of quality for luxury goods throughout the entire supply chain?
How can you offer more responsible deliveries in line with consumers' expectations?
How can you manage deliveries to provide a seamless brand experience to customers?
Woop's DMS provides a better solution for product safety and the experience standards expected by customers, creating a premium and customised service to meet the needs of the luxury sector.
Advantages
A unique platform
Integrate and orchestrate the various delivery flows via a single point to overcome the complexity of omni-channel business.
Personalisation
Be the single point of contact for your customers, regardless of the transport partner selected, and communicate your luxury brand image throughout the delivery process.
Delivery guarantees
Thanks to transport data and our customer satisfaction surveys, improve your performance by motivating your carriers and your teams in stores or warehouses.
Features
Discover all our features adapted to the luxury sector
Key figures
carriers in the Woop network
savings on your transport costs
NPS (compared with 34 on average for parcel delivery)
incoming calls from your customers
Harmonised stock
Increase the quantity of available products sold online, optimise your management and reduce the risk of stock shortages, all whilst using the products available in your stores.
Loyalty
Improve relations and build customer loyalty by providing them with visibility into their deliveries, using reliable and dynamically updated information.
Premium service
Benefit from a broad network of transport partners including premium carriers to deliver an exceptional service.