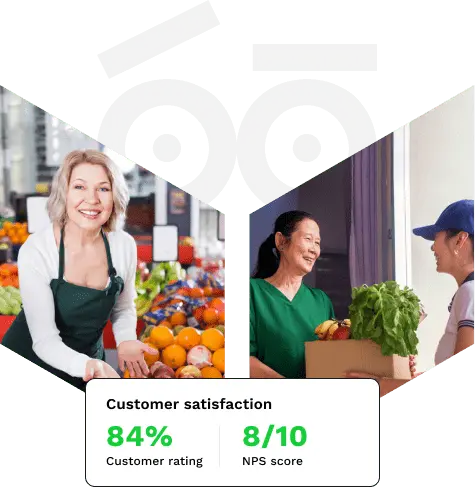 An optimised and perfected omni-channel retail experience for the food businesses.
How do you control the entirety of the delivery flow and offer faster delivery to your customers?
How can you optimise the costs of last mile delivery?
How can you offer more responsible deliveries in line with consumers' expectations?
How can you manage all your deliveries to provide a seamless brand experience to customers?
In order to enable the customised service required by the food industry and its particular constraints, Woop's DMS provides a better food logistics solution, ensuring a seamless delivery experience for your teams and your customers alike.
Advantages
Agility
Offer delivery for all types of food products - even fresh products - with delivery within less than 2 hours from products leaving your physical points of sale.
Harmonised stock
Increase the quantity of available products sold online, optimise your management and reduce the risk of stock shortages, all whilst using the products available in your stores.
Cost reduction
Challenge several carriers in real time and get the best transport offer for each order: start saving from your first delivery!
Features
Discover all our features adapted to the food sector
Key figures
carriers in the Woop network
savings on your transport costs
NPS (compared with 34 on average for parcel delivery)
incoming calls from your customers
Customer experience
Woop improves the delivery experience and allows you to take control of post-purchase communication with your customers.
Visibility
Through the dashboards provided in the solution, you can accurately monitor your delivery activities and the service quality of your partners.
Save time
To integrate a new carrier or find the best offer for an order, Woop's time is the best!