Boost omnichannel sales with click & collect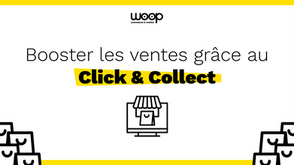 Multiple lockdowns have boosted click & collect (or click & drive) services.
Indeed, in just a few months, it became an essential order collection solution, with 85% of French people believing that retailers would benefit from consolidating this service (source: FEVAD 2021 study).
Used by more than 80% of French e-buyers (source: FEVAD 2021 study), while click & collect (purchasing method by which a consumer orders their product online over the Internet and then collects their purchase at a point of sale) was just another delivery solution more than a year ago, today this practice has become a permanent part of the consumer habits of a far greater number of people.
In fact, the digital transformation of practices, the crisis, the closure of essential shops, etc. have changed the needs of consumers, who are now demanding new services. "Click, call & collect" and e-reservation are now considered essential by large brands and small businesses who wish to respond appropriately to the needs of their customers and demonstrate resilience (closure for stocktaking, administrative closure, etc.).
Customer experience: adapt to customers and improve the quality of service
According to a study carried out by Walker, 62% of companies have decided to invest in the customer experience, a figure that's explained by the fact that two-thirds of companies compete primarily on the basis of the consumer experience.
A focus that is likely to increase as the customer experience is poised to overtake price and product characteristics as the main brand differentiator.
If customer experience is now so high up in brands' priorities, it's because it has a direct impact on the sales and bottom line of the company. 91% of customers dissatisfied with their purchasing experience wouldn't buy from the same brand again (source: Livework studio). A loss to which the additional costs of customer complaints must be added. Companies have understood this well - to stay in good health, it's best to opt for a memorable customer experience.
So what factors influence the customer experience? They are numerous and can be distinguished according to two types:
controllable elements (price, labelling, product presentation, etc.)
uncontrollable facts (weather, customer's personal situation, seasonality, etc.).
Whilst it's difficult to act on unknowns, anything that can be optimised to help improve the customer experience must be put in place to allow businesses to best meet consumer needs.
According to a Fevad study from September 2021, 12.7% of French people plan to buy more in stores in the next 6 months. And the main reason for this is being able to touch products "for real". Good news for physical outlets. Retailers such as Kiabi, Decathlon and Zara have particularly stood out this year, doubling the share of their omnichannel customers.
Among the avenues for improving the customer experience are adapting delivery services to customer needs by integrating a click & collect service that offers:
A unique online ordering and in-store collection experience
The result of a beneficial synergy between the digital channel and the physical channel. The customer benefits from the perfect combination, juggling between the speed and convenience of the online journey and the proximity of the physical point. In other words, it allows the customer to reserve their products in store with just a few clicks, without giving up their physical interactions with the brand.
Once they have ordered online, consumers simply go and collect their purchases at a point of sale, while avoiding:
wasted time (difficulty finding a product on the shelf)
queues or crowded shopping areas
issues of product unavailability with real-time access to stock status
An optimised quality of service
(reduced delivery times compared to a traditional delivery service)
Consumers making their purchases online free themselves from delivery costs and the constraints of waiting for the delivery person. No need to hang around for half a day waiting for the postman to call on you so that you can get your purchase. Customers decide when to pick up their purchases. They no longer set their schedule according to the delivery man, and above all, they avoid delivery issues:
missed delivery card
not being at home
parcel returned to the sender
damaged purchases...
Cost-effective: boost sales and reduce delivery costs
Click & collect helps increase the efficiency of sales channels while reducing costs for the consumer:
It offers the best of both worlds between digital and physical. By ordering via the online store, and collecting purchases from points of sale, brands considerably increase product references and can rely on product availability on the website and in physical points of sale. Stores' stock rotation and management are improved.
Cheaper than delivery, more convenient than in-store purchase; brands that offer click & collect have a better chance of winning over customers.
Products are available at short notice in local shops to the delight of customers. A major competitive advantage for brands!
the drive-through boosts cross-selling, according to Fevad (2019), 28% of e-buyers taking advantage of collecting an order in a relay point or store to buy other products at that pick-up point or store.
The reduction in transport costs borne by the company compared to delivery has a positive impact on prices.
Click & collect makes points of sale autonomous in managing deliveries. The work of salespeople is made easier.
Click & collect is an essential way to boost omnichannel sales. It helps meet the needs of customers in terms of immediacy, price and convenience, and indirectly improves the profitability of points of sale by helping them stand out positively from the competition. In fact, the click & collect option offers an advantage over pure players, that of relying on a network of physical stores to make rapid collection possible by also providing their customers with personalised advice.
Thanks to Woop's delivery solutions orchestration platform, setting up a Click and Collect service, across all your stores, for online purchases made from your e-commerce site has never been so simple and fluid.
Our Woop technology platform is accessible as software-as-a-service and requires no on-site software installation.
Subscribe to our newsletter